Family suite is the name of a suite of rooms specially designed with 2 bedrooms – a private toilet suitable for family guests or close friends of 4 people who want to stay together. Family suite can include a kitchen to serve the needs of preparing your own food and depending on the hotel – resort, the area of this room type will be different.
In hotels, suites are often named under different names: Junior suites, Family suites, Senior suites, Executive suites … to increase the level of Vip – attract many different customers.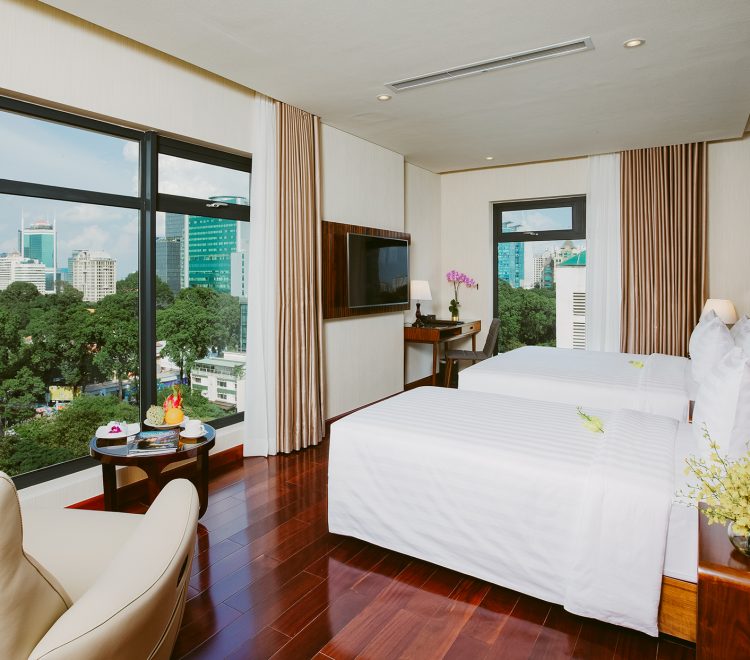 1. Bedroom
♦ Interior – equipment standards:
Single bed 1.2m x 2m
Double bed 1.6m x 2m
Beds for disabled people 1.8m x 2m
Blankets with cover, 20cm thick cushion, carbonated, pillow with cover
Bedside cabinets or shelves (one single bed room: 01 cabinet / nightstand, one double bed room: 02 cabinets / bedside shelf, two single beds: 01 or 02 cabinets / bedside shelves)
Electrical equipment control panel is located in the nightstand
The headboard lamp for each guest can adjust the brightness, the electrical socket is safe at the headboard
Phone
Air conditioner, TV, minibar (with drinks, snacks, snacks)
Instruction for use of telephone and television
Wardrobe with clothes hanger – Clothes hanger with many types to hang all kinds of clothes, shirts – clothes brush
High-speed wireless internet (wifi), high-speed cable internet (internet cable)
Working table, desk lamp, safety socket at the desk.
Tables and chairs drinking water, drinking glasses, cups of tea – coffee
Safe deposit box
Smoke detectors (smoke detector)
Automatic water sprinkler system (sprinkler)
Sufficient lighting.
Window blinds are bright enough
Safety socket
Picture
Bedroom carpets or wooden floors
Emergency exit diagram
Eyes mounted on the door, doorbell, safety latch, magnetic card locks, the door automatically closes.
♦ Standard items:
A briefcase containing information about the hotel and guest guides includes: rules, services and service prices, service hours of services, promotional policies, envelopes, paper, pens
Water boiler
Beer, wine openers
Paper boxes for food, fruit tableware
Crate or laundry bag
Trash bags
Luggage racks, slippers
Paper or sponge wipe shoe
Bag needle, hair dryer, iron, iron
Mirror
Mirror the whole person
2. Restroom
– With the restroom
♦ Standards of interior – equipment:
Walls are made of water-proof materials and floors are made of non-slip materials
Safety socket
Phone connected to the bedroom
Washbasin, pedestal placed washbasin
Shower / tub shower with shower
Water faucet, shower
Shower system shower standing shower
Toilet, water tap next to the toilet
Mirror, lamp on mirror, ceiling light
Hot water
Ventilation equipment
Gas system and floor drain ensure to prevent odor
♦ Standard items:
Clothes hangers, towel racks of all kinds
Bath salts
Doormat
Clothesline, health scales
Toilet paper, trash can with lid
Items for a guest: cup, soap, face towel, towel, toothbrush, toothpaste, hair cap, makeup remover, cotton swab, shampoo, shower gel, conditioner, lotion, bathrobe.
Room view: Sea view, Mountain View
Room Area: 25m2
Number of Rooms: 24
Equipment
Single Bed
Double Bed
Air conditioner
Free Wifi
Shower
Bathtub
Hairdryer
Pool